It is not for nothing that we are called Group,
it is together that we can act, design, produce.
The group takes you back towards values which are important to us such as:
Solidarity, which allows us to meet challenges that could out step us as an individual.
The group skill, which is always more important than all individuals' skills added up together.
Trust, which ensures the group's coherence, the "working together". But also the trust in ourselves which comes from the group.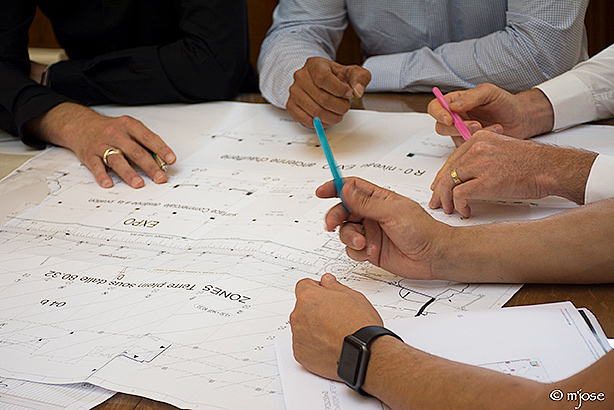 It's not for nothing that we are called Empreintes,
Symbolism and values of the imprint are the basis of the vision we have of our activity and of the building act in general. The imprint is a trace, unique and proper to each and every one. The architect is used to leaving a trace on Earth, and sometimes through time.
We wish it to be as discrete as possible, to serve best our projects allowing them to express their identity.
Our projects are just as much imprinted with our creativity as our skills. We endeavour to always bring the well-adjusted answer to our clients' needs, in a pragmatic and functional way. We offer them our experience, our know-how and our expertise to guide them in their choices and accompany them to take the most pertinent decisions.
In our project the "fine" remains inseparable from the "functional" and not in competition. Our architecture serves our clients' image. We barely apply our imprint.